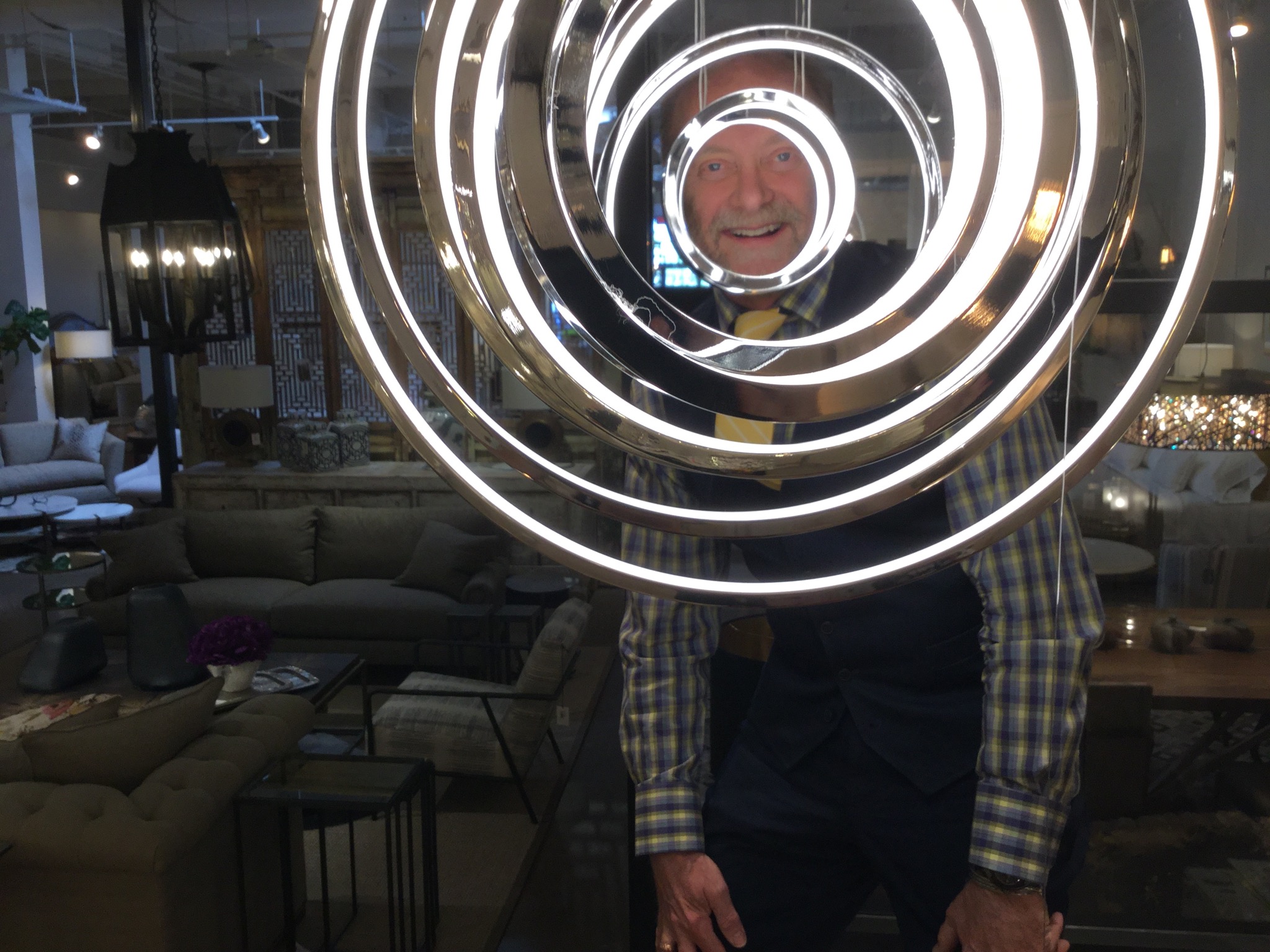 What is your title? Lighting Designer
What is your degree in? Architectural design
Tell us a little about your work experience.
Worked all four years of high school in a shoe store, where early on I learned the significance and value of patience!  When I got out of college we were in the midst of a recession and I could not get an architectural job to save myself, so ended up being the last assistant to a local iconic interior designer.  Upon her death a few years later, I inherited many of her clients and continued to work in my own interior design business for the next twelve years.  I was always interested in good lighting for my projects, and developed a good association with a venerable lighting showroom in Phoenix.  I subsequently signed on with that showroom and through continuing education became a lighting designer and general manager.
Where are you from? 
I grew up in the Midwest, Indiana to be specific, and upon my family's move across country, played out my senior year in Olympia Washington.  I came to Arizona after two years of college, continued my higher education here,  and have resided in Phoenix ever since.
How did you get into Lighting?
Working within residential interior design I realized the critical importance of lighting to the value of the end product.  I was frequently spending a large amount of the project budget on lighting, usually after making the case to clients as to why it was necessary.
What made you choose light design out of any other opportunities?
My future in lighting may have been preordained earlier in life.  During my teenage years my family lived in a house that had been custom built by the owner of the local lighting showroom.  It was equipped with a rather state of the art lighting control system along with multiple types of lighting in every room, which educated me early in life to understand the value of layers of light within a space along with the ability for ease and convenience of control, plus the energetic drama added by the ability of full range dimming.
What was your most rewarding project and why?
I have had many rewarding projects on various levels, but a specific project a few years ago was an outstanding experience.  I had worked with a local couple on lighting changes within their seventeen year old residence in Paradise Valley and was asked to provide lighting design for a new 12,000 square foot residence they were building outside Calgary.  After many meetings over several years of design and selecting products, I, along with two members of my staff, went to the new residence to supervise the installation of more than fifty five crystal lighting fixtures.  I questioned why the clients wanted us to come from Phoenix, at significant expense, to do what seemingly local installers could do.  They responded that they wouldn't do it without us, and found great value in having us do the job from beginning to end, stating no one locally would be able to give them the service and expertise we were providing.  Their confidence in me, and their delight with the final product was so rewarding, besides being two of the nicest people I have ever met, made the ending of that project both exhilarating and bittersweet.
What does a usual workday look like for you?
Arriving at the showroom, doing the usual email/message check, making a list of things to do, and then never getting anything done on that list due to showroom traffic, emails, and calls.  You know – just another normal day!
How would you characterize your design style? 
I might venture to label it Sophisticated Modern Organic.  I have a great interest in materials being honest in their presentation:  wood as wood, stone as stone, etc.  I have historically detested faux representations of materials, as in wood grain formica, or aluminum siding with woodgrain embossing.  Truth in materials was one of the principal tenants espoused by Frank Lloyd Wright, a major mentor in my life.  At the same time, I celebrate technology in all the ways that it can bring convenience and creative design into play.
Where do you draw inspiration from?
From everything and everywhere.  I have always been stimulated by geometry in all things natural or manmade, abstracting most everything I observe into the basic geometric shapes that compose it.  I am also inspired by pattern and texture, in how they repeat and progress, creating rhythm and unity.
What is the most important thing to consider when choosing a lighting fixture?
This is where Mies van de Rohe's famous quote, "Form Follows Function", somewhat comes into play.  Actually, I don't believe that expression always holds true, so I might adapt it a bit to reflect a balance of form and function.  Ambient, task, and accent lighting all perform specific purposes (function) while most "decorative" lighting fixtures provide delight or design with their looks (form).  Every lighting decision requires a happy blend.
How do you choose your lights for your home?
By a combination of the of form and function.  If a chandelier is pleasing to my senses and performs the necessary illumination requirements then it's a winner.  The same goes for architectural lighting within my spaces, as even the trim on a recessed light needs feel "good", i.e. disappearing as much as possible while functionally lighting the painting to create drama and visual excitement.  I apply the same principles when working with clients.
How is it like working with a designer versus a customer? 
Frankly, in most situations it is easier as the designer and I are usually on the same experience level and speak the same language.  The designer has usually established a more focused path and the design direction is known and considered.  Customers are frequently not sure what they really want, and require some sort of education at various points along the way, ultimately consuming many more hours of time.
Would you say it is helpful to have a designer as the middle man and why?
Absolutely, as their role is pivotal within the complexities of a major design project.  Not only do they provide design inspiration, they are psychiatrists, advisors, friends, and sounding boards to their clients.
Are their any insights or helpful hints you can share with designers when they are working with their clients on lighting projects? 
Bring me into the project as early as possible.  Pre-select 2-3 options without you client.  If there are any specific things you don't want me to say or ask, please establish that "script" with me before appearing    in the showroom with your client.  Be passionate and firm with you opinions and advice to your clients – they hired you for your expertise.
What is your dream lighting job?
Any design situation where I feel fully valued for my contribution and expertise.  Lighting has become so much more a technical achievement than even a few years ago, so I have a great deal to bring to the table on interior design projects.  When every member of the design team respects what the other professionals contribute, the entire project runs much more smoothly, is fun instead of drudgery, good relationships are created, and the final product is high caliber.
What is your favorite part of your job? 
The completion! (as in a successful completion)  It is so rewarding when all parties are excited and happy at the conclusion of a project and everyone has a sense of pride and ownership.
Why CAI Designs?
After twenty one years at my previous position, I suppose I was finally ready for a change (I, like many, really don't like change).  CAI Designs provides a greater outlet for me to work with colleagues of like minds in a design center that celebrates the possibilities of what human minds can create.
What is your favorite color?
Orange, or more specifically Burnt Orange.  Living in Arizona, the main thing I miss is the splendor of Autumn in the Midwest, especially the deep, russet oranges in fall foliage.  My color palate runs the collage that is fall, from deep golden yellows, intense reds, earthy browns, along with deep purple hues.  I am not generally fond of bright or primary colors within my environment, with my preference tilting toward colors that are more muted or "muddied".
What is your favorite food?
That question is just too hard, as I love to cook and eat.  There are too many choices to single out just one!