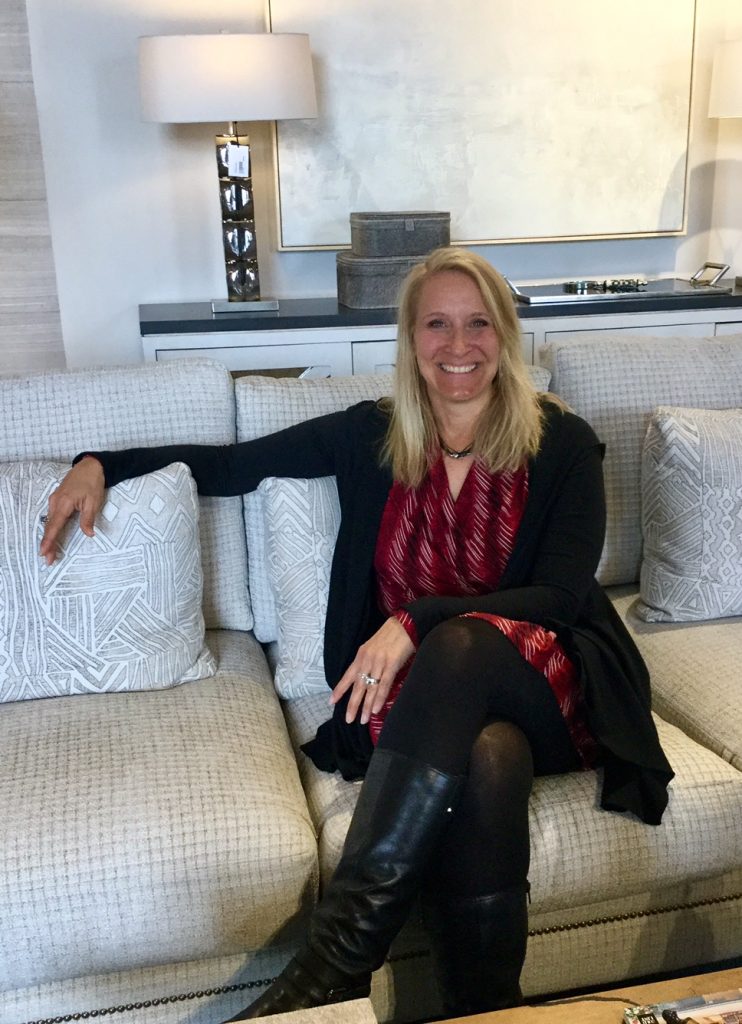 Tell us about your past work experience:
When I was little, I would draw floor plans of my house and I asked my parents for a subscription to Architectural Digest magazine for my 12th birthday. When I was 13, I bought a leather recliner for my room with the money from my birthday. I wanted to go to school for architecture but ended up getting accepted into the engineering school at Boston University. I graduated with a BSEE and worked in the tech industry including healthcare and medical device strategy for a $16 billion design and manufacturing company. More recently, I ran the digital health practice at a boutique investment bank and ran corporate development for a healthcare IT start-up. When I moved to Arizona last year, I finally decided to go back to my true love of design. I've been taking a 12 month online interior design course. I met Dana at an ASID event and he offered me an internship. I've been working at CAI since last April as an intern 2 days a week and decided to take the CSR role part-time to learn more about the industry.
Where were you raised?
I grew up in New York in a town called Stony Point about 30 miles north of Manhattan, right on the Hudson River.
What is/was your most rewarding project and why?
I am starting my design career so I don't have many projects yet. My first design project is a complete renovation of the second floor of a condo in the Bay Area. It's been a fantastic ride so far. I love figuring out the style of my clients when they don't know what it is themselves. I love when their eyes light up and they smile when I describe their style back to them.
How would you characterize your design style?
My personal design style is a mixture of modern with concrete, steel, and glass materials warmed organically by dark woods, textures, linens, hide, leathers, art and sculpture.
In your experience working at C.A.I. Designs thus far, what is/are some of your favorite product lines and why?
I love helping Dana and Claudia work with designers to find the right piece to bring their ideas to life. We have so many beautiful lines, it is hard to choose. I love Cisco Brothers for their elegant, relaxed look and beautiful linens; Interlude for their gorgeous acrylic benches; Palecek for their textures and petrified drink tables; Caracole for the simple beauty of their chairs and dressers; and Eastern Accents for their sumptuous bedding. But ask me tomorrow and I will have new loves!
What is your favorite color?
Cream.
What do you like to do in your spare time?
Swim, hike, go to the gym, read, write, pet my kitties, relax with friends and my husband. My husband and I are writing a children's book as well.
What is your favorite food?
Sourdough toast. Every time I went on long trips across the world, I would crave sourdough toast.
Where do you draw your inspiration from? Is there anything you do to get you inspired when you hit a slump?
I draw inspiration from my clients' personalities, how they live and love, what is special to them from childhood and from special times in their lives. I love drawing inspiration from public places including hotels and gorgeous architecture. The world is a much smaller place and I enjoy looking at designs from around the world.
Anything else you would like to share?
It is never too late to follow your passions. Learn all you can from where ever you can. I look forward to helping our designer clients deliver beautiful pieces from our amazing vendors to beautify the world.
Donna can be reached by email at donnaf@caidesigns.net
or (480) 565-3775 x6932