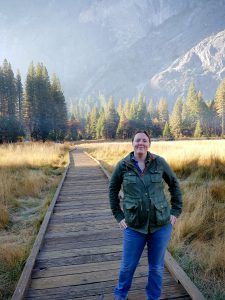 What is your past work
experience/education?
I have worked for over ten years in the nonprofit and education fields with a few retail positions, all primarily customer facing roles. I have always been drawn to the design field as I have a BA in Studio Art with a concentration in Sculpture and Art History from Millikin University. I spent the last seven years working in museums in the northern IL suburbs. I was the museum director for four years at the Fabyan Villa Museum, a Frank Lloyd Wright home located in Geneva, IL. I have always had an eye for design and a heart for helping people that I hope will bring a different perspective and approach to C.A.I. that will help clients.
Where were you raised?
Oak Park, IL.
Where do you draw inspiration from?
I am always drawn to a good piece of art such as The Nighthawks by Edward Hopper or the great writers such as Rick Bragg or Louise Eldrich or any music from the Sun Records catalog.
In your experience working with C.A.I. Designs thus far, what is/are some of your favorite product lines and why?
I love Hubbardton Forge because I worked primarily in welding metal as a sculpture major so I understand it's structure and the beauty and time it takes to create pieces like that. On the furniture side I am drawn to Lee Industries for the simple lines and classic aesthetic.
How would you characterize your design style?
Classic, comfy and colorful.
What is your favorite color?
Ruby.
What do you like to do in your spare time?
Spare time is seemingly an oxymoron as I have a very active 2.5 year old, but I do enjoy reading, primarily well written memoirs and biographies, as well as family saga drenched fiction. Our family is active outdoors and do a lot of camping, hiking and canoeing when able. I have traveled to Europe, mainly Germany and Italy, and would love to go back someday.
What is your favorite food?
Most pasta based dishes I will never turn down.
What is your favorite TV series?
Mad Men.
Hannah can be reached in the Arlington Heights showroom at hannahw@caidesigns.net or by phone at (847) 590-9835 x6782.