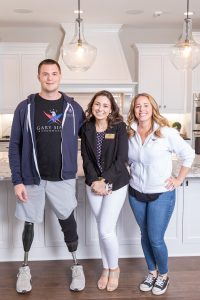 What is your past work experience / education?
I started my lighting career about 6 years ago with Savoy Houses' distribution showrooms. I spent a few years taking homeowner and designer appointments out of 6 different showrooms in North Texas and Greater Atlanta. I moved on to getting my American Lighting Association Certification and transitioned from outside direct to builder/designer sales. I would read electrical plans, assist with whole home selections, bid for large projects/subdivisions, and be on location for install. Because of my field experience, I have become very familiar with the technical side of decorative lighting, lighting code, and the residential building process in general. I was very fortunate to be able to attend the lighting market for the past 6 years in Dallas. I am proud to be able to use my experience to be an asset for C.A.I.'s designers.
Where were you raised?
Southlake, Texas.
Where do you draw inspiration from?
I draw inspiration from the diversity of lighting I come across in everyday life. I find that everywhere I go I am looking up at the lighting. I am especially excited for my honeymoon to Europe next year. I have always been drawn to the contemporary styles of European lighting designers.
What is your most rewarding project and why?
I am most proud of my work with the Gary Sinise Foundation. Being able to contribute to a smart home for a wounded veteran proved to be a very fulfilling experience. My father is a veteran, so I found this project very personal. I worked very closely with this Veteran and his family to make sure the lighting in his home met all of his needs, while keeping to a very small budget from the foundation. The end result left me in tears!
In your experience working with C.A.I. Designs thus far, what is/are some of your favorite product lines and why?
Hubbardton Forge and Visual Comfort have always had consistently amazing originality and quality. But more recently I have developed appreciation for more independent suppliers like Heirloom Lighting, who manufactures only in the USA, or Terzani, an Italian lighting company.
What is your favorite color?
Pearl Pink.
What do you like to do in your spare time?
What brought me to Colorado is its beauty. I spend my free time skiing, hiking, exploring. I also play piano and guitar and love to sing.
How would you characterize your design style?
I have always been drawn to very contemporary design. With LED integration, lights don't have to be designed around a light bulb anymore. I am amazed with the innovation we are seeing now that we aren't constricted to such a bulky light source.
What is your favorite TV Series?
The Office.
Heather can be reached in the Denver showroom at heatherh@caidesigns.net or by phone at (303) 282-8100 x6972.