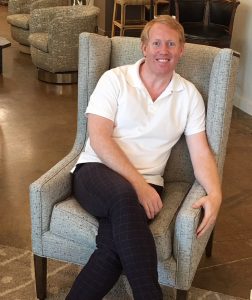 What is your past work experience/education?
Before joining the CAI team, I worked in retail in the Cherry Creek Shopping District. Prior to moving to Denver, I was in product development designing furniture and lighting for several different home decor companies.
Where were you raised?
I grew up in the Delta in Greenville, MS on the banks of the Mississippi River.
What is your most rewarding project, and why?
I would say my most rewarding project was helping a couple with their condo that they had lived in for a year. The husband never felt like it was his home. His wife and I worked for weeks selecting everything for the living room, dining room, and the master bedroom. Once it was all completed and installed, he said "finally, I'm home." It was an amazing feeling that he felt that way over items we work with every day.
How would you characterize your design style?
My design style started out as leaning more traditional, but throughout my job experiences it has definitely grown to be more transitional and has a timeless look about it.
In your experience working with C.A.I. Designs thus far, what is/are some of your favorite product lines and why?
My favorite product line is Taracea. The craftsmanship that goes into each unique piece is truly unbelievable. Also, since it is a family-owned company that has several different generations working together to make beautiful product shows how dedicated they are at growing and adapting with changing trends and styles.
What is your favorite color?
Blue.
What do you like to do in your spare time?
I usually spend it playing with my three dogs. We have a lab, a collie, and a St. Bernard so they keep us pretty busy.
What is your favorite food?
Mexican food. I never get tired of it. I could eat it every day for every meal.
Where do you draw your inspiration from? Is there anything you do to get inspired when you hit a slump?
I think inspiration can be drawn from anything. You never know what might strike you.
Kevin can be reached at the Denver C.A.I. Designs Showroom at kevinb@caidesigns.net or by phone at (303) 282-8100 x6971