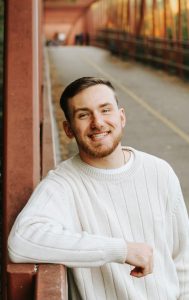 What is your past work
experience/education?
I'm currently studying at Harper College, but I have worked for C.A.I. during my summers as a part time job to help inventory at the AH location. Working during the summers allowed me to have a good base for the Inventory position and hopefully I can fill the shoes of Ernesto as he's been such an amazing worker here.
Where were you raised?
Arlington Heights, IL.
What is your most rewarding project, and why?
As a part time hobby I do video game streaming on the platform Twitch and have built a small brand and following in a short amount of time. I have worked my way up to be able to receive revenue from ads and people paying to be a subscriber to my channel.
Where do you draw inspiration from?
I draw inspiration from professional athletes from any sport due to their drive to always be better than they were the day before. I live by striving to be the best in my field and to never be satisfied.
How would you characterize your design style?
Comfortable, functional and fashionable.
In your experience working with C.A.I. Designs thus far, what is/are some of your favorite product lines and why?
My favorite product line is Brownstone because of the sleek modern look of their products.
What is your favorite color?
Red.
What do you like to do in your spare time?
Stream video games, hang out with my family, and hang out with my girlfriend at her apartment in the city.
What is your favorite food?
Anything seafood or any Asian dish. When both of those combine for a meal it is perfection.
If you could travel back in time, where/when would you go?
I would travel back to the beginning of the 80's to experience Rock 'n Roll at it's peak.
What is your favorite TV series?
New Girl as it is extremely funny when I wasn't expecting it to be. Top tier sitcom.
Anything else you would like to share?
I can't wait to meet everyone working here and hope everyone has a great up and coming 2021.
Zack can be reached in the Arlington Heights showroom at ahinventory@caidesigns.net or by phone at (847) 398-4785 x6764.