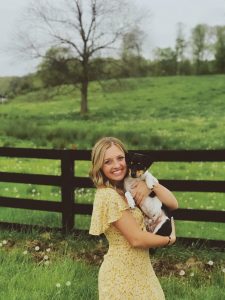 What is your past work
experience/education?
I studied Interior Design at Indiana University and graduated in 2019. I then moved to Chicago where I started working for
Haywoodmade Interiors as a Design Assistant.
Where were you raised?
Indiana.
What is your most rewarding project, and why?
Sourcing all furniture & lighting for a 3-story townhome in Lincoln Park at my last position. It felt especially rewarding because I got to take the lead and it felt more like my own project compared to others.
Where do you draw inspiration from?
Observing all things design in my daily life, but also through photography and my favorite social media accounts.
In your experience working with C.A.I. Designs thus far, what is/are some of your favorite product lines and why?
Regina Andrew, I love the materials used and the mixture of different elements and styles to make unique pieces.
How would you characterize your design style?
I'm drawn mostly to mid-century modern.
What is your favorite color?
Blue or green colors.
What do you like to do in your spare time?
I have two dogs that I spend majority of my spare time with. I enjoy studying astrology, refinishing old furniture, painting, and traveling.
What is your favorite food?
Strawberry Mochi.
If you could travel back in time, where/when would you go?
Probably the 60s – I like the clothing and interior styles of that time period.
What is your favorite TV series?
Stranger Things.
Do you have a favorite quote?
"Following your heart is always worth the risk." – Danica Gim
Logan can be reached in the Chicago showroom at chicago.admin@caidesigns.net or by phone at (312) 755-9163 x7007.