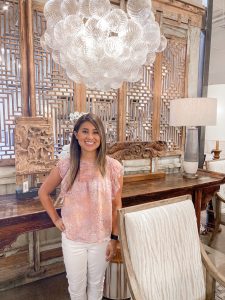 What is your past work experience/education?
I started my passion for interior design at the early age of thirteen. I always had a fascination for furniture placement and lighting. I attended I.D.I. for my certification in interior design and in 2009 I started working for Olivia's Interior Design & Accents in Newport Beach, CA as a retail sales associate. As I started learning more about the trade and clientele, I moved up to interior design assistant and lead lighting sales associate.
Where were you raised?
I was raised in Irvine, California.
What is your most rewarding project and why?
The most rewarding project I have worked on was a home in Newport Beach where we custom built indoor and outdoor furniture. We worked hand-in-hand with a high end client of ours that had multiple patents for Ford Motor Company. It was very rewarding to see the finished project and to have delivered exactly what our clients were wanting.
In your experience working with C.A.I. Designs thus far, what are some of your favorite product lines and why?
Some of my favorite product lines thus far are Visual Comfort, Hudson Valley, Terzani, Lodes, and Hubbardton Forge. These are some of my favorite lines because I love the detailed work they put into their finishes and the quality of their glass. I love how some of these lines are custom to order and uncommon to see.
What is your favorite color?
Cyan.
What do you like to do in your spare time?
My hobbies include movies, baseball, football, and outdoor activities of all kinds.
If you could travel back in time, where/when would you go and why?
I would go back to the 70's era in the United States. I love everything about that time including the music, clothing, and interior design.
How would you characterize your design style?
My design style is definitely modern and contemporary. I love items that have straight lines and very sleek looks.
Do you have a favorite quote?
"Enjoy the little things in life for someday you will realize they were the big things".
What is your favorite food?
Lamb with a bed of rice and veggies.
What is your favorite TV Series?
Too many to count. My favorites right now are The Handmaid's Tale, Stranger Things, Law & Order, and Suits.
Anything else you would like to share?
I have a passion for traveling and love to be out and about as often as I can.
Kelly can be reached in the Scottsdale showroom at kellyh@caidesigns.net or by phone at (480) 565-3775 x6937.