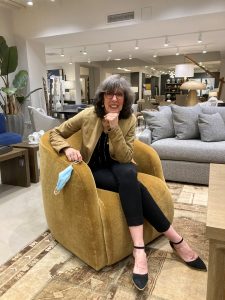 What is your past work
experience/education?
I most recently assisted in the opening of the Natuzzi Italia showroom in Lincoln Park, Chicago. It was an invaluable study in clean sophisticated design lines with a color palette of Southern Italy with soothing qualities to bring to every home as we work, and gather for the important events of life. With a background in fine art, I approach design in the role of curator!
Where were you raised?
I was born in Washington DC, raised just beyond the Beltway in Maryland.
Where do you draw inspiration from?
I draw inspiration from my lineage of strong women in my family, every art museum lingered in, outsider art venue experienced plus the heart of the amazing city of Chicago through it's diverse neighborhoods.
What is your most rewarding project and why?
My most rewarding project was the client who bought the furniture first before he found the home! We worked to create the energy of leathers and fabrics on pieces which provided respite and inspiration for his global profession. You can imagine my elation when the property was purchased and all designs worked!
In your experience working with C.A.I. Designs thus far, what is/are some of your favorite product lines and why?
I am excited to work with Palecek, bringing outdoor ease indoors and to rooftop gatherings! I love the textures and finish detail of each piece. Also, newly landed in the Chicago, C,.A.I. Designs showroom, Verellen. The snuggly Theo swivel, the look of covered dining chair legs brings a hushed elegance to dining. Can't wait to pair them with sculptural dining tables of Phillip Selva!
How would you characterize your design style?
Transitional, firmly planted but looking forward.
What do you like to do in your spare time?
All things art. I am working with a photo vellum series layered with gold leaf. My children are currently on 3 different continents. We look forward to safe traveling to visit each other.
If you could travel back in time, where/when would you go and why?
Paris in the late 1800's when it became a city of fashion, architecture and art. The international exposition changed the way we saw everything.
What is your favorite color?
My favorite color is the color of tumbled sea glass. Walking Oak street beach collecting pale greens and blues.
Do you have a favorite quote?
Trinity to Neo in the Matrix: "You've been down that road before…" paired with the slow motion frames of the movie where Trinity and Neo are in the back seat of the car as the back door swings open, a long telescoping look down a rain covered, deserted road.
What is your favorite food?
Right now, almost post pandemic, Small Cheval's vanilla Amaretto shake sharing golden fries, one for me and one for my Dachshund, Will!
What is your favorite TV Series?
I thoroughly enjoyed The Crown!
Anything else you would like to share?
Please stop in and say hello when you are next at the Mart!
Deborah can be reached in the Chicago showroom at deboraha@caidesigns.net or by phone at (312) 755-9163 x7003