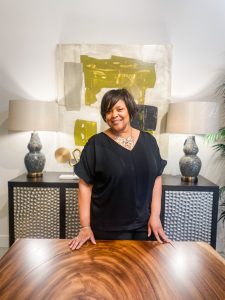 What is your past work
experience/education?
I was a licensed Cosmetologist for over 30 years in Michigan before starting in the lighting industry 8 years ago. I was forced to look for other income once the economy took a turn for the worse. I applied for a Lighting Consultant position at a company that offered extensive training in lighting. I was fortunate to train under someone who had been in the business of lighting and design for more than 30 years. I absorbed everything that I could pertaining to lighting and design and developed a genuine love for it.
Where were you raised?
Michigan.
Where do you draw inspiration from?
I find inspiration from training and educating myself as much as I can with the latest trends and lighting designs that are fun and functional.
In your experience working with C.A.I. Designs thus far, what is/are some of your favorite product lines and why?
I love Hubbardton Forge because of the unique styles and the ability to choose any of their beautiful custom finishes with any fixture.
How would you characterize your design style?
Transitional.
What is your favorite color?
Yellow.
Do you have a favorite quote?
Albert Einstein's definition of Insanity: "Doing the same thing over and over again, but expecting different results."
What is your favorite food?
Anything Mexican.
Tiffany can be reached in the Troy showroom at tiffanyw@caidesigns.net or by phone at (248) 822-1300 x2370.